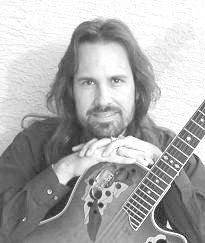 ---
BIO
---
I started playing guitar when I was in the 3rd grade. I remember it like it was yesterday. All the students at school gathered into the auditorium, because the school was offering free lessons and having band sign ups. I wanted to play the drums. I'm not really sure why, other than the fact that making lots of noise seemed to be a natural talent... Anyway, the school told me that in order to take drums, I had to have at least three weeks of lessons on a stringed instrument. So I went home and told my parents "I want to take guitar lessons so I can play the drums". Due to the understandably confused look on their faces, I continued to explain the situation. They were very supportive and found a local music store that offered guitar lessons. A week later I took my first lesson. That was back in 1978. I took guitar lessons for 4 years, and my parents bought me my first electric guitar and practice amp after 3 years. I never did take drum lessons at the school.
Years later I discovered Guitar for the Practicing Musician magazine. My sister used to buy me an annual subscription every year for my birthday. I used to look forward to sitting down with the latest copy when it arrived and going through the songs and articles. It was a valuable resource that helped me learn and understand the guitar better. I still have several years' worth of the magazine to this day.
In my late teens and early twenties, I played guitar and sang lead vocals in the thrash metal band Mag. Syndrome.. I later joined the progressive band Crime Scene, playing guitar and only sharing vocal duties on a couple of songs. Having been a shy and withdrawn child, playing in a band and being on stage was an absolutely exhilarating experience. It brought out an outgoing side of me that I didn't know existed. It is a one of kind experience that is hard to explain. After Crime Scene broke up I played guitar in Neli's Syn for a while. I haven't played in a band since, but am very thankful to have had that experience in my life. People often ask if I'm in a band or plan on playing in one. Truth is I think about it off and on. It takes a lot of time, but it also takes a group of people with similar musical vision that all get along. Maybe someday I'll put a band together and go back up on stage.
Music in general has always been a very large piece of my life. I find it strange how so many of my memories are directly tied to and can be invoked by different songs that I was listening to at any certain point in time. I can tell you exactly where I was and what I was doing the first time I heard "Eruption" by Eddie Van Halen even though it was decades ago.
I've always been fascinated with the ability of music to paint such a vivid picture, and to invoke such a wide and varied range of emotions. Creating music is a universally understood method to share a particular mood or emotion with others.
Over the years, guitar has always helped me vent my own emotions. Many times when I've been sad or angry, playing guitar has helped me deal with those emotions in a productive and almost therapeutic manner. Playing guitar has been a great source of joy to me, and has been an excellent way for me to channel some of the energy and emotions that I have inside. I can't imagine what my life would be like if I never played guitar.
I don't know who said it, but I once heard (or read) that "most people die with their music still inside them". I'm glad I won't be one of those people.
When asked who to thank?
My parents

- for listening to me, and letting me take guitar lessons when I asked. For sitting me down with a timer and making me practice for a 1/2 hour every night. For listening to my attempts at playing as I was learning. For letting me quit when I said I wanted to, and the letting me start again 2 weeks later.

My sister

- for buying me subscriptions to

Guitar for the Practicing Musician

magazine, which enabled me learn a great deal about guitar. This was a time before you could find almost anything on the Internet and few people had computers at home, so the subscription was a valuable learning tool for me.

My ex-wife

- for always supporting my playing throughout the years and tolerating the noise that eminated through the house when I cranked up the guitar.

Former band members

- for the music we created together and all the fun we had with it. For pushing me to learn. For helping me overcome my shyness.
I have several videos of me playing guitar posted on YouTube, or you can watch them here.
For other aspects of my creative side, see my paintings and poetry pages.
---
Change your Cookies Preferences
---